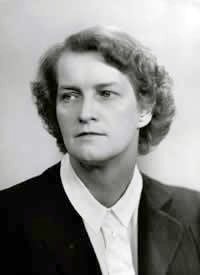 Evelyn Adelaide Sharp, Baroness Sharp, was born on 25 May 1903 in Hornsey, now in North London. She was educated at St Paul's Girls' School where she captained the school at both cricket and netball. In 1922 she went up to Somerville College, Oxford, where she obtained a second in Modern History and met Alix Kilroy. Alix persuaded her to apply to join the civil service rather than pursue a career as a teacher and she took the entrance exam in 1926, the year after Alix Kilroy and only the second year in which the examination for the administrative class was open to women.‌ Evelyn Sharp and Alix Kilroy remained close friends throughout their lives.
Her first post, like Alix, was in the Board of Trade but her first job was uninspiring so she managed to transfer to the Ministry of Health which at that time was concerned with local government, and this soon became her speciality. She shared a room there with three male colleagues where, according to Miss Kilroy, she "very quickly became the centre of admiration and rivalry .. a day or two later, Evelyn's difficulties with S increase. From which I conclude: Such is the fate of women in the Civil Service: they ought not to sit in the same room with men." [AK's diary 22 Feb 1929] Some time later, one of Miss Sharp's male colleagues told her that he could not conceive of working under a woman and would certainly not be able to tell his wife if he did so.
But Evelyn's first boss at her new Ministry was determined to treat her exactly as he would have treated a woman in her place - including sending her to a meeting with town council whose Town Hall porter would not let her into the building, whose Town Clerk would not introduce her to the Council, fearing it was some sort of joke, and whose Chairman said "We didn't expect a lass but you're very welcome", quickly pocketing a large cigar lying beside the place to his right that had been reserved for the Minister's Inspector. According to Alix Kilroy, that experience started the love affair that was to develop over the years between Evelyn and local government to the extent that her Times obituary said that 'She did more than anyone else in this country to bring local and central government closely together. In local government circles, she earned a personal trust that was unique.'
During the Second World War, Evelyn Sharp was inter alia responsible for the people whose only shelter during the bombing was the platform of a Tube station. One evening, having gone to see for herself what could be done to make things more comfortable for them, she invited one particularly lost-looking family back to stay in her flat. According to Alix Kilroy 'Father proved to have no interest in anything but pub opening-time and mother to be a tart with absolutely no housewifely knowledge - and they were very difficult to get rid of.' Later in the war, Miss Sharp was seconded to the Treasury and, at the end of the war, she became Deputy Secretary in the Ministry of Town and Country Planning. Then, when the Ministry of Housing and Local Government was formed, she became its Deputy Secretary. She worked closely, at this time, with (later Prime Minister) Harold Macmillan, who was tasked by PM Sir Winston Churchill to build large numbers of houses after the 1951 General Election. He later described her as "without exception the ablest woman I have ever known". In 1955 she was promoted to be the MHLG's Permanent Secretary. She had thus become the first woman to reach this highest executive position within the British Government. She held the post to her retirement in 1966 when she entered the boardroom of Bovis, a house building firm.
In 1948, she was appointed a Dame Commander of the Order of the British Empire (DBE), one year before Alix Kilroy. She was promoted further than Alix, of course, being promoted to Permanent Secretary in the year that Alix retired. However, on replying to a congratulatory letter from Alix's husband, Francis Meynell, she said that she felt it wrong that she should have advanced so far ahead of Alix, but she knew that "in her marriage, [Alix] had the better part". In 1961, she was elevated to Dame Grand Cross of the same order. When she retired in 1966 she became a member of the Independent Broadcasting Authority until 1973. In 1968 she was made a life peer as Baroness Sharp, of Hornsey in Greater London.
But she was far from universally popular. Her Minister from 1964 was Richard Crossman with whom she frequently clashed and who described his battles with her in the first of his three-volume Diaries of a Cabinet Minister, which were part of the source material for the BBC's Yes Minister and Yes, Prime Minister. Many years later Tristram Hunt (who was later to become an MP) nominated Dame Evelyn as his 'Worst Briton' in an article published in the New Statesman in 2002:
.. A legendary figure in Whitehall, "the Dame", as she liked to be known, ran postwar planning as permanent secretary of the Ministry of Housing and Local Government from 1955-66. Well versed in departmental cunning, she outmaneuvered a series of ministers including the great Richard Crossman. Yet she was also the civil servant who presided over some of the most hideous and unsympathetic urban developments of the past 50 years. With an unbridled faith in the power of Whitehall, she sanctioned the mass destruction of historic street housing in favour of bleak modernist developments. Described as having "no aesthetic sense whatsoever", Dame Evelyn was typical of an arrogant bureaucratic elite who severed our architectural bonds with the past, destroyed the civic fabric and delivered the British city over to the automobile. We are only just emerging from her dark reign.
Richard Crossman's diaries revealed that HM The Queen also had a low opinion of Dame Evelyn: "Oh that woman. I can tell you I don't like her."
Nor, it appears, did Prime Minister Margaret Thatcher. Her Foundation writes that:
By a stroke of luck MT came to prominence very quickly. At the beginning of each Parliamentary Session, backbench MPs enter a ballot for the chance to introduce their own legislation (known as "Private Member's Bills"). The top half dozen have a reasonable chance of becoming law, provided the Government doesn't oppose them. MT came second in her first try and so within weeks of election was in the unusual position of doing serious business with senior ministers and officials, attracting a lot of attention from the national press. .. She unhesitatingly chose a controversial subject for her Bill, involving trade union power, a move that was shrewd as well as brave, because the topic was inherently newsworthy. That summer a number of Labour Councils had withheld access to their meetings to provincial newspapers involved in an industrial dispute with print workers: her Bill would force all local authorities to open up to the press, and public, like it or not. The files show that Ministers and officials were wary of such a head-on attack, preferring instead the negotiation of a "code of practice". MT found herself particularly at odds with Dame Evelyn Sharp, Whitehall's first woman Permanent Secretary and a strong personality. Dame Evelyn found the new MP for Finchley demanding and unrealistic, an unwelcome interloper in the close, perhaps cosy, relationship between the Ministry and local government. She plainly hoped the Bill would fail; in fact MT recalls her saying as much, face to face.
One is forced to wonder whether Dame Evelyn's closeness to local government, and clash with Mrs Thatcher, were two of the factors that helped make Mrs Thatcher very suspicious of senior civil servants. But once Mrs Mrs Thatcher became a Minister, she had a very good relationship with one senior woman official - Jacqueline Hope-Wallace.
Evelyn Sharp died, aged 82, in September 1985.
Some additional comment and information about Evelyn Sharp may be found here.