This is the second in a series of notes which provide more detail about, and comment on, the many attempts – some successful, most not – to 'reform' the UK Civil Service. It focuses on changes introduced by Tony Blair's New Labour Government from 1997 to 2007. The key elements were:
Modernising Government,
Civil Service Reform: Delivery and Values - an insubstantial document promising greater emphasis on delivery without any clear explanation of how this was to be achieved,
the harder edged Gershon and Lyons reports promising significant reductions in civil service numbers - especially those employed in London and the South-east, and
various attempts at the politicisation of the civil service.
(The third note in this series looks more generally at the way in which the Blair government depended too much on eye-catching announcements which were not backed up by detailed planning. The note looks in particular at six influential external reports, published between 2006 and 2010, which expressed various concerns about the inadequacies of Whitehall and/or the way in which the Labour Government interacted with the civil service and Parliament.)

1. Modernising Government
Following the 1997 elections, Labour's Civil Service Reform Programme originally supported its wider Modernising Government Initiative which was, from 1997, being taken forward by much of the public sector, including local authorities. The main central government themes were articulated in a late-1998 Senior Civil Service Conference. The 1999 Modernising Government White Paper then had a significant civil service reform element (as well as a very sunny design). However, taken as a while, the initiative was hardly challenging. I myself mounted a doomed attempt, from within the Cabinet Office, to persuade colleagues to focus more on project/change management rather than spend too much time (in their comfort zone) drafting the White Paper. Even more seriously (in my view) the No.2 official in the Cabinet Office tried and failed, in 1998, to get colleagues to take a look at the organisational and Parliamentary obstructions to reform, making points which could just as well, I suspect have been made every year since then. A senior colleague in No.10 told me in June 1999 that the Modernising Government White Paper was regarded there as 'a great disappointment'.
But none of these concerns were made public. The then Head of the Civil Service told the Prime Minister that he and his Management Board 'pledged themselves personally to drive forward a new agenda' including:
Stronger leadership

Better business planning

Sharper performance management

A Service more open to people and ideas, and which brings on talent, and

A better deal for staff.
And the Initiative was welcomed by most senior officials. In DfEE, for instance, Rob Wye prepared an interesting note summarising how we might judge that we had achieved a fully modernised government. This was circulated to a wide range of senior officials, including the Cabinet Office's Permanent Secretary.
The Modernising Government Initiative had three workstreams:-
better policy making

more responsive and higher quality services, and

modern public sector management.
My policy-making homepage lists three reports produced as part of the Better Policy Making Initiative.

Apart from this, the civil service part of the initiative concentrated on 6 areas:-
stronger leadership

better business planning

sharper performance management

greater diversity (esp. more women, ethnic minorities and disabled people in senior positions)

becoming more open:- i.e. becoming less hidebound, and better at bringing on talent
offering a better deal to staff.
Key documents were:-
Like many similar reform initiatives, "Modernising Government" soon suffered from Civil Service Reform Syndrome and lasted only two or three years before the Government announced that its "priority for this term is [now] to improve public service delivery and reform public services". Individual parts of the initiative were therefore either abandoned or handed over to individual departments to take forward. The spotlight accordingly moved from "Modernising Government" to "Delivery":- see further below.
Developments between 2001 and 2003
The Civil Service in 2001 felt that it had already implemented a number of "important reforms already" - a quote from the Labour Party Manifesto for the General Election that year. But that comment was overshadowed by the rest of the paragraph which hinted at considerable change to come:-
"Our civil service is world-renowned for its independence. Labour is committed to maintaining the political impartiality of the civil service. But it needs to reform to make it more effective and entrepreneurial. There have been important reforms already. We want to take more radical steps to ensure the civil service has the skills needed to meet the challenges set out in this manifesto."
Despite this manifesto commitment, there were initially no major developments following the 2001 election (although work continued on a possible Civil Service Bill). Then, in June 2002, incoming Cabinet Secretary Sir Andrew Turnbull published a fascinating note summarising how he intended to take forward Civil Service reform. In particular, he said that he intended to hold Permanent Secretaries to account for bringing about reform in their departments and improving service delivery. This was quite a novel concept, as Sir Andrew's predecessors had always hesitated to assert their authority over Permanent Secretaries who are constitutionally responsible to Departmental Ministers, not the Cabinet Secretary.
Sir Andrew's subsequent Round Robin to Staff, on his first day in office in early September 2002, included an interesting set of aspirations for the Civil Service of 2005. I particularly like the last one:-
A Civil Service respected as much for its ability to deliver as for its policy skills;

A Civil Service which is able to develop long-term plans and make sure they work;

A Civil Service that is valued by the public not only for the services it delivers, but for its values of:



integrity and trust

impartiality and readiness to serve all citizens and governments

recruitment and advancement on merit

a make-up that reflects the society it serves


A Civil Service which young people and those successful in other walks of life want to join and work with.

Sir Andrew then created a substantial (if arguably over-complex) Delivery and Reform Team, including:-

a Reform Strategy Team

a Strategy Unit

a Delivery Unit

an e-Transformation Unit

a Corporate Development Group

an Office of Public Service Reform and

the Office of Government Commerce.

The next major development was in early 2003 when it was announced that the Cabinet Office's Delivery and Reform Team and other central units would work with delivery departments to create Performance Partnership Agreements. The idea was that each department would agree with the Cabinet Office etc. its key priorities such as Public Service Agreement targets and major projects. There would then be an assessment of whether the department had the right leadership, the right strategic focus, the right engagement of delivery stakeholders and the right management of delivery to achieve the priorities. Action to strengthen these areas could be included in the key priorities. The aim was that assessments would involve staff, frontline managers and stakeholders, as well as the department's top management and the combined centre. The department would then develop a change programme to ensure that the organisation was able to fulfill its purpose and priorities.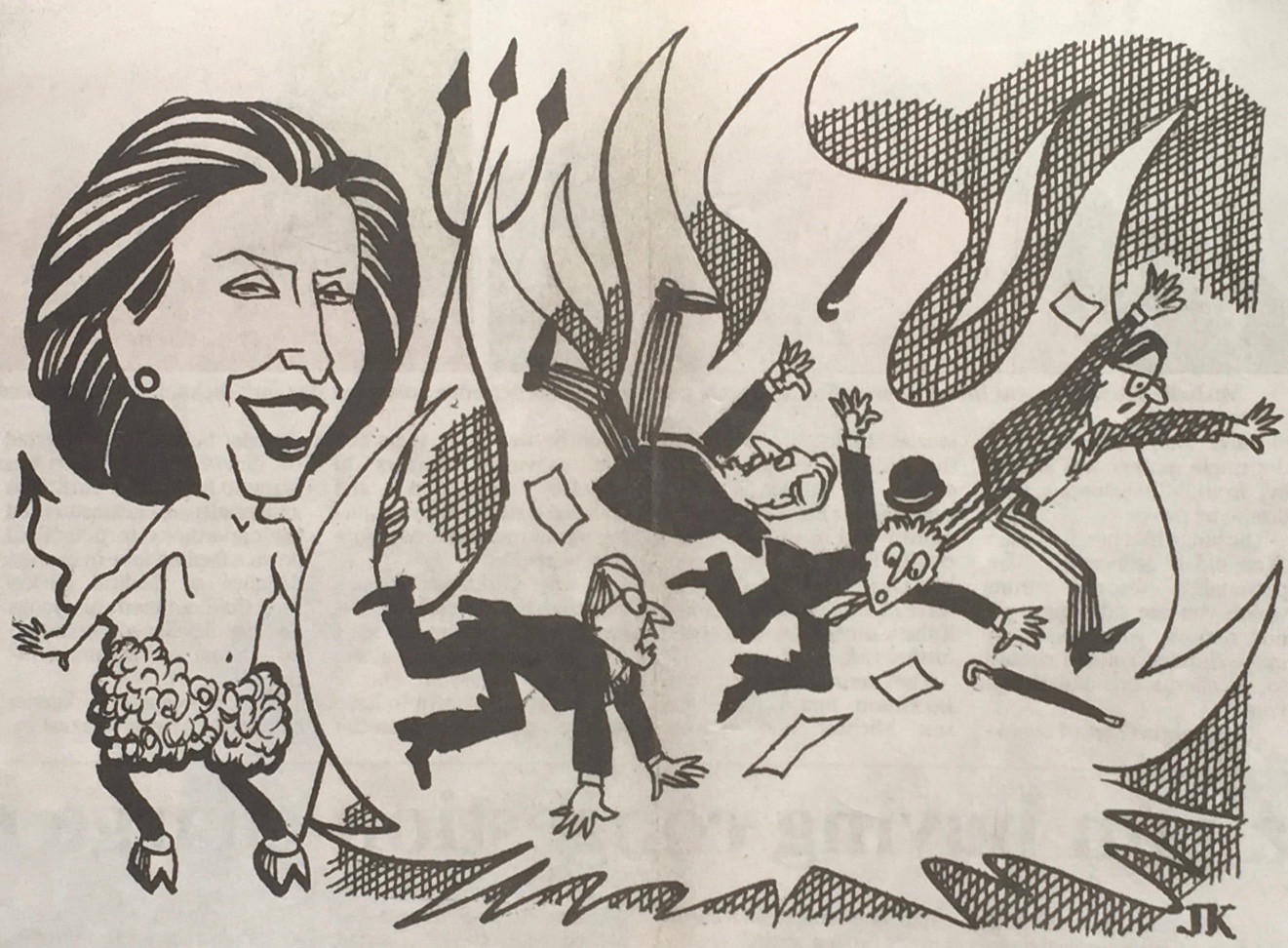 Environment Secretary Margaret Beckett (pictured in the cartoon on the left) signaled Ministers' concern about the performance of the civil service when (according to The Times) she signaled a 'cull of the mandarins' in January 2003. 'Around 500 senior officials in her department are to be subjected to rigorous psychometric testing to prove their worth for the job ... possible as many as 50 officials were to be asked to [leave]. ... [She had] sanctioned the clearout after being disappointed in by [their] lack of willingness to embrace new ways of working ... [ and had] been embarrassed by criticism of her department's performance.' It was telling, I guess, that the initiative was credited to Minsters and not to the department's own civil service leadership.

Then, later in 2003, Andrew Turnbull issued three letters leading up to proposals to improve leadership in the Senior Civil Service. To no-one's surprise, the proposals in fact focused on management, not leadership, and stressed the need for 'newer approaches (such as a focus on outcomes, risk management, creativity and innovation)' (It was far from clear why anybody thought that these approaches could be described as 'new'!) Other management improvement proposals included time limited postings and 'more active exit strategies', both aimed at helping managers get rid of poor performers. Probably the most positive initiative was the introduction of a high performance development scheme, which was initially very effective but subsequently lost profile and hence effectiveness, becoming another victim of Christopher Hood's Civil Service Reform Syndrome.

2. Civil Service Reform: Delivery and Values - & other developments in early 2004

There were a series of major announcements in February and March 2004.
For further background, you might like to read Oonagh Gay's Lyons/Gershon Briefing Note as well as Ann Treneman's teasing report of the Docklands conference.
Let's look at some of these in more detail.
The Civil Service Reform document was 'owned' by Andrew Turnbull, the Cabinet Secretary and sought to focus the civil service on 'delivery' as well as to herald major changes in the way the civil service is managed and organised, without going into the sort of detail which would create opposition. The "Outcomes" section was particularly short at around 500 words, all of them uncontroversial and none of them containing a numerical target or date. The essence of the document was contained in the foreword which summarised the reforms as leading to:
Civil servants being recruited from various backgrounds, at different career stages, given better development opportunities, under more rigorous performance management, with senior postings normally limited to four years, and with progress being dependent on meeting skills and experience requirements at key 'career gateways'.
Professionalism becoming a defining characteristic for policy makers and operational staff as much as for specialists, supported by a principle of developing skills and experience around revived 'career anchors'.
Departments leading public service delivery on the basis of well developed strategies to deliver clear outcomes, supported by much better corporate functions in financial management, HR, IT etc.
The centre providing a focus for excellence in key corporate disciplines needed by departments, and providing a robust internal challenge on delivery and effectiveness.
Efficiency underpinning everything as a constant process of review and challenge, to make sure that departments do what only they should do.
And there was one good passage which succinctly explains how the world was changing, and by implication why the civil service, too, needed to change with it:-
"The public has higher expectations than ever before about the service it is entitled to:

A fair, universal provision is no longer enough: people expect their personal needs to be addressed.
'Authority' is increasingly challenged
Inadequate provision is not accepted.
Litigation over failures is increasing."
There was one detail that was particularly interesting for the senior civil service - the introduction of a four year posting norm. Further detail is here.
The speech by the Prime Minister was in some ways a more exciting document, although it, too, avoided controversy. His general thesis, too, was that "The world has changed and the Civil Service must change with it", and that this "requires politicians as well as civil servants to change".

One particularly strong passage incorporated the best definition yet of "delivery":-
"The principal challenge is to shift focus from policy advice to delivery. Delivery means outcomes. It means project management. It means adapting to new situations and altering rules and practice accordingly. It means working not in traditional departmental silos. It means working naturally with partners outside of Government. It's not that many individual civil servants aren't capable of this. It is that doing it requires a change of operation and of culture that goes to the core of the Civil Service."
As ever, though, none of the so-called reforms addressed the underlying issue of the relationship between Parliament, Ministers and senior officials. Peter Riddell, writing in The Times, noted that "What is missing is the broader constitutional context. There is little discussion of the relations between ministers and civil servants. ... There is no reference to issues of accountability or to relations with Parliament."
3. Gershon & Lyons

Lyons recommended that a large number of civil servants should be moved out of London - More detail above. Gershon recommended large cuts in the size of the civil service. Oonagh Gay, in the House of Commons Library, published a helpful Lyons/Gershon Briefing Note in January 2006. The following are my own comments on Gershon.
Sir Peter Gershon first reported to Cabinet a week or so before the above announcements. Because he expected strong opposition, he did not discuss his recommendations with key members of Cabinet in advance, and indeed his recommendations were not then published. The perhaps inevitable result was that shock value of his comments led to the opposition initially being even stronger than would otherwise be the case.
Sir Peter's report - Releasing resources to the front line - was eventually published in July 2004. It is notable for not including a summary which (deliberately or otherwise) makes it hard for commentators to either attack or support it. In short, however, he recommended that 84,000 civil service jobs might be cut, and £20bn saved each year from 2007-8, as a result of four types of efficiency gain. First, Gershon believed that most "back-office functions" such as personnel management and finance could be contracted out and/or shared with other departments. Second, he thought that significant savings could be made by rationalising the large number of non-departmental public bodies ("quangos"). Third, he wanted to see an overhaul of the way government handles IT. Fourth, he wanted to see major improvements in procurement practices.
Gershon's critics had the following concerns:-
First, they said it would be difficult to share personnel management, and in particular pay bargaining, as this would likely lead to an expensive leveling up of pay rates, which then differed quite significantly across government.

Second, Gershon was in effect recommending the reversal of the Thatcher reforms which delegated the management of their own affairs to individual departments who then became responsible for their own pay negotiations, IT and other procurement and so. This had in turn led to the demise and/or privatisation of bodies such as the CCTA (which used to buy computers and telephone systems for departments), the Property Services Agency, the Stationery Office, and Crown Suppliers. Many civil servants - and even more ex-civil servants - were seen to shake their heads and mutter "I told you so" at this further example of policies turning full circle.

Another aspect of the same problem was reported in the Financial Times on 14 June 2004. The Education Secretary was reported as pointing out that, whilst central procurement on behalf of the education system would undoubtedly save money, it would "come at the expense of schools autonomy".

Third, Gershon's reforms implicitly required the merger of departments and/or functions, such as the merged Inland Revenue/Customs and Excise. But such mergers, in the private sector, seldom achieve the promised gains, and can lead to damaging incompatibilities of culture and technology, and it is far from clear why public sector managers should be any better at overcoming such problems. It can also be difficult to manage very large organisations in a steady state, especially when they carry out a wide range of the sort of complex tasks, such as taxation, that fall to central government.

Fourth, Ministers were said to be concerned at the political implications of the proposals. Increased teacher productivity, for instance, would mean larger class sizes. Could this be sold to voters/parents? And some Ministers reportedly expressed concern that many civil service jobs would be lost from marginal seats in the South East of England, whilst "the winners" would already be safe Labour areas.
Gordon Brown's Budget Speech in March 2004 announced the first Gershon-style savings. There were to be job losses totaling 40,500 in the Department of Work and Pensions, the Inland Revenue and Customs and Excise, including some job losses that had been announced previously. The merger of the two tax departments would create a super-department employing about 100,000 staff, 20 per cent of the civil service.
The Chancellor also announced, around the same time, that he intended to require departments to achieve a 5% cut in their administrative costs over the next two years, whilst the entire public sector was to be set a target of 2.5 per cent efficiency savings per year - money to come from a mix of savings on back office functions and more productive use of the time of front line staff. His plans had firmed up by July 2004 when he announced that he intended to cut c.84,150 civil service posts, whilst creating a number of new posts in the front line so that the net reduction would be c.70,600. Further savings, especially in the Department for Work and Pensions and the now-merged HM Revenue and Customs, were announced in the 2006 Budget.
According to the Treasury, reporting progress to December 2007, the programme had been very successful, achieving savings of £23bn pa and cutting 90,000 posts. Critics argued that some of the "efficiency" savings were somewhat spurious, such as the cancellation of major procurement contracts. The National Audit Office had previously reported on the efficiency programme in February 2006, and had pointed out that some departments had not established baselines against which savings could be established and/or taken account of the additional costs incurred in achieving the reported efficiency savings. In other words, many departments were not able to demonstrate that they were delivering efficiencies and not just spending cuts. This is important because reductions in service quality are always going to be the biggest risk with programmes of this kind.
Post-Gershon reductions in civil service numbers are summarised here.
All in all, though, the programme did achieve real change, with "Gershon" becoming a very familiar adjective on the Whitehall circuit.
Those of a cynical disposition might like to read Sir Humphrey Appleby's advice to a colleague concerned about possible job losses.
Actual changes in civil service numbers are charted here.
Further Developments in and after 2004
Professional Skills for Government: Sir Andrew Turnbull, Head of the Civil Service, announced on 20 October 2004 a programme to "ensure that those with the potential to reach the Senior Civil Service have a consistent level of skills and experience in three broad categories". The programme was subsequently developed so as to provide a framework for the whole of the civil service at all grades. It was, however, made clear that "PSG is not a dramatic departure", and it is probably wrong to treat it as part of a serious reform programme. Indeed, sceptics regard it as little more than yet another exercise in box-ticking and/or a displacement activity so as to avoid tackling more deep-rooted problems. Others noted its similarity to the changes recommended by the 1968 Fulton Report, whilst the LSE's George Jones argued that the programme missed the real need in the civil service which was in his view rather more, not less, policy analysis expertise.
The structure of the programme was as follows.
At Grade 7 and above, civil servants were required to demonstrate skills and expertise in four areas in relation to their job and career grouping. Below G7, departments were developing their own bespoke programmes.
The four skill/expertise areas were:
Leadership

Core skills - People management, financial management, programme/project management, analysis/use of evidence, strategic thinking (SCS only), communications/marketing (SCS only)

Job related professional skills

Broader experience (preferably of more than one career grouping within the civil service) (SCS only)
The three career groupings were:
Corporate services delivery

Operational delivery

Policy delivery
"Delivery & Values" - a civil service reform progress report - was published in June 2005. It certainly reported good progress on a number of fronts, but did not contain anything which good be classified as major reform of the whole civil service.
Departmental Capability Reviews were announced by the incoming new Cabinet Secretary and Head of the Civil Service, Sir Gus O'Donnell in late 2005. He also announced that he would encourage civil servants to adopt the 'Four Ps':- Pride, Pace, Passion and Professionalism.
Capability Reviews would examine:
departments' strategic and leadership capabilities,

how well they run human resources, IT, finances, and

how well they engage with key stakeholders, partners and the public.
Like Sir Andrew's Professional Skills for Government (see above), the reviews were not expected to have a profound effect on civil service behaviour, even in the limited areas they cover. There would be no external assessment, nor any assessment of wider departmental performance. The review teams consisted of "safe pairs of hands". And there would be no "turnaround teams" like those which had been sent into local authorities subject to similar reviews, reflecting the fact that the Head of the Civil Service has precious little command and control powers at all.
The results of the first four reviews were announced in July 2006, and further reviews have been completed since then. According to Sir Gus: "What we have done is ask: 'Do we have the right capacity to meet future challenges? Do we have the right structures? What is the relationship between civil service and Ministerial accountability? Should we have agency status for the big delivery vehicles?" And the Government's summary of the findings of the reviews identified four common themes: Improving leadership from the centre of each department, improving the way the department delivers its services, responding more effectively to the demands of the public, and improving skills, capacity and capability. But there was no attempt to hide the guiding hand of the Treasury. The first action points in three out of the four resulting departmental plans focussed on "reduc[ing central] costs by 40%", "reducing the size of the centre" or "saving £xxx million in headquarters' costs".
There was an interesting comment in the magazine Public in October 2006:
"[The] test is how ... the four departments ... push forward. Has blood been spilled? ... Unless a permanent secretary or two goes in the wake of the criticism of their leadership, who is to believe the process is for real? Another view is that O'Donnell (the Head of the Civil Service) has used vast amounts of credit with his colleagues in getting this far and couldn't effect the removal of one of them, whether justified or not, without harming collegiality. That's a word O'Donnell himself favours [so] the victims are going to be at [lower levels in the civil service]."
The IPPR commented on the results of the first few capability reviews in a report published in December 2006 - see Note 3 in this series.
4. Politicisation - Developments in and after 1997
The British Civil Service is now the only major Civil Service in the developed world to remain wholly unpoliticised in its upper reaches. Others sometimes claim to be, but no longer are. New appointments in these countries do not always clearly follow from party allegiance, but they reflect Ministerial preference and thus personal and political rather than constitutional and institutional loyalty. (Click here for more information about the role of the civil service within the UK constitution.)
The Canadian system is the nearest to that of the UK, but the Canadian equivalents of British Permanent Secretaries are appointed by their Ministers, although appointments seem to be made on merit and incumbents are often reappointed when Governments change following election defeats. In Australia, the equivalent appointments are clearly political. And, in the American system, most of its top three layers change every four or eight years to make way for new Presidential appointments.
But ...
... there were six developments in the UK which appeared, at the time, to have increased the politicisation of the Senior Civil Service following the election of the Labour Government in 1997.
The first was the decision that up to three special advisers in the Prime Minister's Office should be able to act as line managers to, and give instructions to, civil servants. Only two were appointed and one of these - Alastair Campbell - resigned in 2003. (His successor, Dave Hill, did not have the same power. He headed the political aspects of Downing Street's media strategy but a separate senior official spokesman was appointed to handle the civil service parts of links with journalists.) That left only one special adviser (Jonathan Powell, the PM's Chief of Staff) able to give instructions to civil servants, although the power to appoint another two remains.
The second was a near-100% cull of Heads of Whitehall Press Offices in the years following the 1997 election, and their replacement, in many cases, by recruits from outside Whitehall. Many regarded this as a necessary refreshing of a team which had grown stale and unimaginative under the previous weak administration, but it was nevertheless an impressive display of what can happen if Ministers feel that they are not getting the support that they need. And although many of the appointees have been very successful, there does not appear to have been a dramatic improvement in the performance of the Whitehall information machine, and indeed the Government is frequently criticised for indulging in excessive "spin".
The third development was the opening up of many senior appointments to open competition so that a number of Permanent Secretaries and others have now been recruited from outside Whitehall, although many had previous Whitehall experience, or else considerable experience in similar fields such as local government. Interestingly, however, it is hard to think of any of the outside appointments which appear to have been a great success in that the appointee has stayed in the civil service and gone on to a much larger job.
The fourth development was the Government's decision in September 2003 that "... [politically appointed] special advisers need to be able, on behalf of their Minister, to convey instructions and commission work from civil servants ...". This placed special advisers between Ministers and civil servants, so that they now share a role previously held exclusively by Ministers' private secretaries.
Fifth, the Government indicated, in its September 2003 response to the ninth report of the Public Standards Committee that it was minded "to give Ministers a constrained choice among candidates judged to be appointable [for appointment to the Senior Civil Service following open competition. This] would be consistent with ... other appointment frameworks." Although this appeared to give Ministers the power to appoint a soul-mate or crony in preference to a better qualified candidate, the Government argued that the "Independence and integrity of the appointment process would be secured through the permanent Civil Service and the independent Civil Service Commissioners who would decide which candidates would be suitable for appointment to the Civil Service. Only candidates that are above the line and hence meet the test of merit would be offered to Ministers." The contrary argument was that Ministers would encourage their "cronies" to apply for jobs, knowing that, as long as they were capable of doing the job, it was as good as theirs. In the event, following strong criticism of the idea, the Government decided to withdraw this proposal.
Sixth, there were clear signs that the senior civil service was no longer "a job for life". Of course poor performers have often been weeded out - although it has generally taken a long time to do so - but pay and pensions systems were reviewed with the clear intention of encouraging "up or out" careers, whilst anyone who has been in an SCS post for more than four years was now strongly encouraged to look for a new job - if not inside the civil service then outside it. But it was less clear whether the departments had been persuaded to find the cash needed to facilitate such early retirements.
Those interested in this subject should also read:-
a note on the Politicisation of the Civil Service by Sir Robin Mountfield, Permanent Secretary of the Cabinet Office,
a note of a Public Administration Committee conference in October 2003
Comment
The Times' Peter Riddell, commenting at the time of the 2004 Delivery and Values launch (see above), said that
Tony Blair has never understood how government works. He has a brilliant intuitive sense of the public mood and of power. And he knows what he wants. But he has little understanding of how to get there.

Close advisers report his lack of interest whenever the machinery of government is discussed. He is an outcomes, not a process, man. This is hardly surprising since he had no experience of Whitehall, or indeed of running anything, before he became Prime Minister ... What is missing is much sense of the broader constitutional context. There is little discussion of the relations between ministers and civil servants. ... There is no reference to issues of accountability or to relations with Parliament. [He wants to reverse] the traditional functional approach enshrined in the Haldane report of 1918 ... We need a similar independent review now. Civil Service reform matters.
The next, third note in this series looks at six influential external reports, published between 2006 and 2010, which expressed various concerns about the inadequacies of Whitehall and/or the way in which the Labour Government interacted with the civil service and Parliament.